Body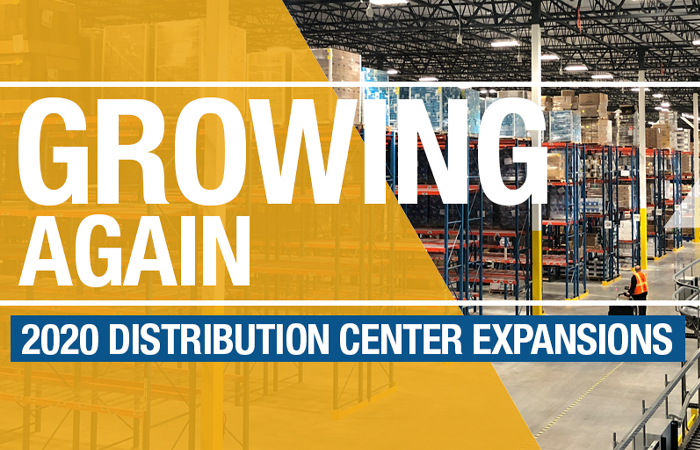 ST. LOUIS, MO JAN 23, 2020 – Distribution Management, parent company of Supplies Network, has completed agreements solidifying the planned expansions of its Southwest and Midwest distribution centers during the first half of 2020, following a major expansion of its Northeast facility in September 2019.
These capacity and infrastructure improvements in Dallas, Texas and St. Louis, Missouri will mark the completion of six facility upgrades as part of plans launched in 2015 including two acquisitions and a fourfold increase in overall company capacity. The Dallas and St. Louis expansions alone provide nearly three times the capacity over previous sites. In addition, deployment of the latest technologies in automation and robotics are expected to maintain and improve the company's industry-leading service levels while managing increased volume due to sustained growth as well as future expectations. 
"I am extremely proud of our organization for successfully executing on our aggressive expansion plans," said Sean Fleming, CEO at Distribution Management. "Relocating and expanding distribution centers requires a tremendous amount of planning and collaboration among all of our teams. These facility upgrades are mission critical in allowing us to capitalize on significant growth within both our Supplies Network and DM Fulfillment sales divisions and support increased demand for the near term and future growth expectations."
"It's an exciting time for our company," added Rick Goe, Vice President of Supply Chain at Distribution Management. "We have always embraced technology and these new distribution centers are loaded with next-level, leading technologies that will enhance our dedicated teams' ability to deliver a world-class customer experience with every order."
Both new facilities are expected be operational in the first half of 2020 with Dallas, TX launching first followed closely by St. Louis, Missouri.
About Supplies Network: Supplies Network is a national wholesale distributor offering a comprehensive line of imaging supplies and a broad selection of equipment and parts from over 80 leading manufacturers. An early innovator of Managed Print Services, the company leverages top industry talent, a dedicated IT development team with experience in packaging SaaS services, and relationships with all segments of the print-provider value chain including major supplies manufacturers and dealers. Reseller branded drop-ship reaches 99% of the U.S. population within 1-2 days via ground shipping. Visit www.suppliesnetwork.com for more information.
For further information or to schedule interviews please contact:
Distribution Management
Bill Erpelding, Director of Marketing
Phone: (314)720-3222
bill.erpelding@distributionmgmt.com